About the OLBC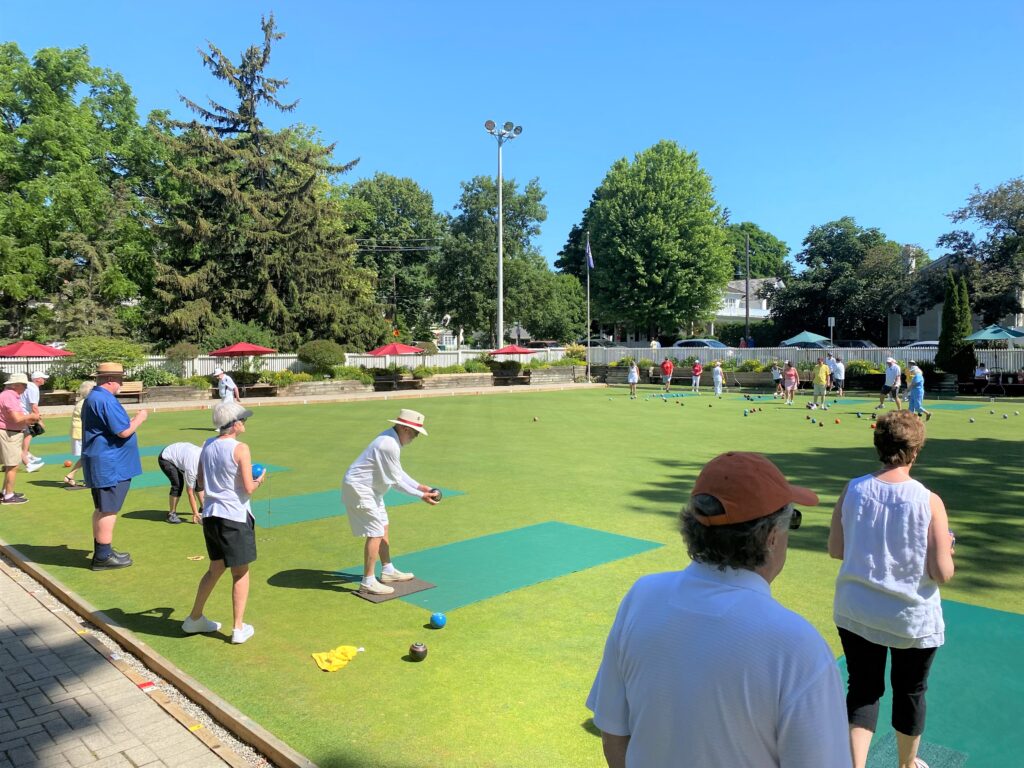 Our Club and it's Members
The Club is run entirely by its membership in accordance with the Club's Constitution and OLBA rules. The Club's Constitution embodies a code of ethics to ensure that all members have the opportunity to share the volunteer work and enjoy the benefits of membership. We provide opportunities to participate in Social Bowling Events, and Club Leagues, as well as Club, Inter-Club, and Provincial Tournaments.
Our Location
The Oakville Lawn Bowling Club is located at 111 King Street, on the south west corner of Navy Street and King Street, adjacent to the The Oakville Club, overlooking Oakville Harbour in beautiful, historic, Downtown Oakville. We are privileged to be located in one of the most desirable spots in Ontario with its many restaurants, stores, cafes and bake shops, the Oakville Museum, and the Oakville Centre for the Performing Arts all within walking distance.
Our Facilities
Our Bowling Green is set in picturesque flower gardens and surrounded by mature trees and a quaint white picket fence. The Green is divided into 8 rinks which can run either north/south, or east/west, and is floodlit for evening play. Passers-by often linger to watch games in progress, take photographs, and encourage the players. We have a fully equipped clubhouse with kitchen, washrooms, lockers, storage rooms and open area for eating and socializing.
Our History
The Club was established in 1908. The founders approached the Town of Oakville who agreed to lease a parcel of land that had previously been the site of the Oakville Town Hall, Jail and Outdoor Market. After levelling the ground, laying sod and building a small clubhouse, the Club opened shortly after. The first game was played between the first President of the Club, E.T. Lightbourn, and the the first Vice President of the Club, Alan Chisholm. In 1911 the green was expanded and doubled to eight rinks. As other lawn bowling clubs sprung up, the Club began inter-club play, starting with the men in 1953, and then the ladies in 1961, and the Club won its first inter league championship in 1964. In 1978 the Town of Oakville added a kitchen and washroom to the existing clubhouse. In 1991 the entire clubhouse was reconstructed. In 2000 the green was extended again.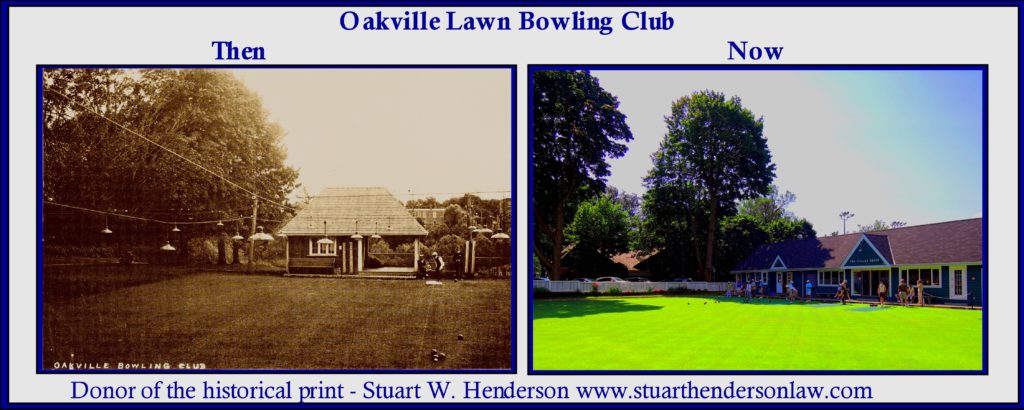 Land Acknowledgement
Long before today, as we gather here in Oakville, there have been aboriginal peoples who have been the stewards of this place. In particular, we acknowledge that the town of Oakville is located on the sacred lands of Treaties 14 and 22, the Lands and Territory of the Mississaugas of the Credit.
We acknowledge and thank the Mississaugas of the Credit First Nation, the Treaty holders, for being stewards of this traditional territory. We recognize and deeply appreciate their historic connection to this place. We also recognize the contributions that Métis, Inuit, and other Indigenous peoples have made, both in shaping and strengthening this community in particular, and our province and country as a whole.