Junior

Program Singles Championships August 26, 2018
Our juniors performed like pros in our first club singles tournament.
The Boys Singles event was won by Ben Kluge in a very tight game against Jack Reistetter. These boys played so very well and made us proud!
The Girls Singles event was won by Rebecca Coon who played an excellent game against Evelyn Ledrew, who finished second. These girls, too, played very well and made us proud!
Honorable mention goes to Dekker Ly, Josef Marshall, Oscar Reistetter and Katie Marshall who put forth a valiant effort and displayed amazing sportsmanship.
Trophies were awarded to the winners of the Boys and Girls singles events as well as the Boys Pairs event which was played a month ago.
The Boys Pairs winners were Jack and Dekker.
Boys Singles Champion – Ben
Boys Singles Runner-up – Jack
Boys Singles Finalists – Josef, Dekker and Oscar
Girls Singles Champion – Rebecca
Girls Singles Finalists – Evelyn and Katie
Boys Pairs Champions – Jack and Decker
Our season has come to a close. Next year promises to be even better than this year as our juniors develop into outstanding, young players.
A special thank you is extended to our junior coaches, without whom our program would not have been successful: Helen Byrnes, Anne Wilkinson, Rob Barbisan, Joy Barbisan, David Mayhew, Yvonne Mayhew, Cammy Cleveland and Bob Vaudry.
Junior

Program End of Season Newsletter and Activities
Club Junior Singles Tournament – Sunday August, 26
On Sunday, August 26, 2018, we will be holding a Boys Singles Club Championship and a Girls Singles Club Championship.
The Tournament will start at 10:00 a.m. and end at 12:30 p.m. Please mark it in your calendar.
Junior Lawn Bowling Tournament July 22, 2018
On July 22 Oakville hosted Burlington in a tournament, in spite of the rain.
Our Oakville team of Jack and Dekker won Gold in Pairs,
Our other Oakville team of Ben and Josef won Silver in Pairs.
Congratulations also go to Wesley of Oakville who won 4-3-2-1 against ten other opponents.
The tournament wouldn't have been as successful as it was without the help of the parents and grandparents who stepped up to the plate and help supervise.
Also our thanks to the coaches who stood out in the rain all morning supervising the games; they are: Helen Byrnes, Cammy Cleveland, Bob Vaudry, Trish Hyland and Anne Wilkinson. Anne also kept everyone warm by keeping the coffee, juice and snacks flowing!
Back row: Wesley, Dara, Evelyn, Ella, Josef, Ben, Jack
Front row: Katie, Rebecca, Bridget, Dekker
Prizes were given to all the players at the end of the day. Here are some photos of the games today:
Junior Program Awards System
In this year's Junior Program we have set up some competitions to develop bowling skills and will be teaching Juniors how to play Singles, Pairs, Triples, 4-3-2-1, and Aussie Pairs.
We have also developed an Award system which currently consists of four levels of bowling ability. These Award levels are described in the document links shown below:
Award Level 1-White Award Level 2-Yellow Award Level 3-Green Award Level 4-Red
Meet Ben, Dekker, Evelyn, and Rebecca
The first Juniors to complete Level 1 of our new Junior Awards Program
Junior Program – Look at us now!
As we progress through the Awards Program –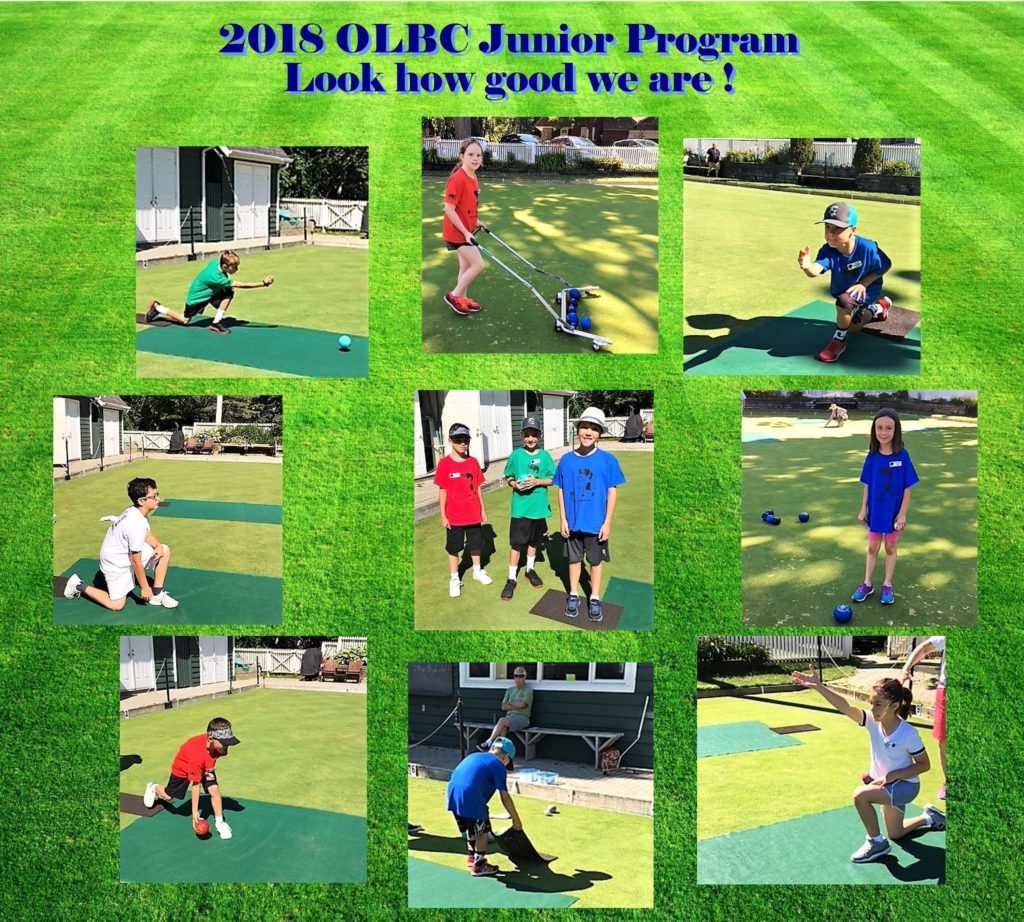 Each week the Junior bowlers are asked to wear their club t-shirt and flat-soled shoes. And to bring along a water bottle, hat, sunscreen and snack for the mid-session break. Please arrive no earlier than 9:50 as we need to set up.
Junior bowlers should meet in the club house and wait until instructed, to go on to the greens.
At the end of the day, after all the equipment has been put away, we will hand out freezies.
Looking forward to seeing all of you on Sunday, and remember, if parents would like to play, we have a few sheets available for you too.