2022 is off to a great start with our very successful results in the Youth Under 18 Provincials. 
Our Junior Program was created and designed by Ms. Jennifer Aziz to encourage young people to enjoy the sport of Lawn Bowling. We are now in the fifth year of our Junior Program.
We have an exciting season planned for our Junior members in 2022, with the assistance of 6 enthusiastic volunteer coaches. Competitions are set up to develop bowling skills and will teach the Juniors how to play Singles, Pairs, Triples, 4-3-2-1, and Aussie Pairs. The Junior Program continues to grow each year with an end of season Championship tournament with awards going to the winners,  and this year we are also hoping to enter Juniors in the Provincials and Nationals! This is a wonderful opportunity to introduce your children or grandchildren to this great game!
Player Categories
Juvenile: 8 – 12 years old as of May 1st of the Club year
Youth: 13 -17 years old as of May 1st of the Club year
Schedule
Regular Season: Sundays 10:00 to 11:30am – May 22 to July 24
Junior Championships: July 31 and August 7 – 9:00am – 2:00pm
Fee 
$80 – includes name tag, t-shirt and snacks, as well as use of Club bowls
Dress Code
Juniors will wear the t-shirt provided and are also required to wear flat soled shoes with low tread
Program
The program consists of four levels.  Juniors must pass level 3 before being able to participate in Adult/Junior games (as per the Junior Protocol outlined below).  Click on the link below for a detailed description of each level.
Protocol

Click here for full details of the playing protocol for all Junior members.
Registration Forms

2022 Junior Program Membership Registration Form
2022 Junior Members OLBA Waiver
Note: there is a limit of 20 participants in the Junior Program
If you have any questions regarding our program please do not hesitate to
Or contact Jennifer Aziz directly: 416-587-9637 jennifer_aziz@hotmail.com

2022 JUNIOR NATIONALS RESULTS
The 2022 Youth Nationals concluded Saturday August 6th with three medals for our club:
U18 Girls 4th: Ella Hammond
U18 Girls Bronze: Ella Conlin
U18 Boys 4th: Dekker Ly
And a special mention to our first-year bowler, Hannah Haviland, who placed 5th in U18 Girls.
We are all so proud of your accomplishments! 
A special thank you to our coaches: Jennifer Aziz, Anne Wilkinson, Cathy Kuhrt, Joy Barbisan and Patrick Cote. 
We look forward to an even better year in 2023.
—
CONGRATULATIONS TO ALL OUR JUNIOR BOWLERS WHO PARTICIPATED IN THE 2021 BACK TO BOWLS PROVINCIAL TOURNAMENT
2021 Junior Pairs Championship Results!!
GIRLS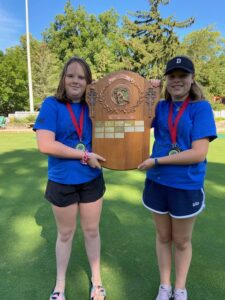 Congratulations to 1st Place Ella and Ella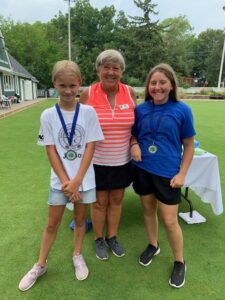 Congratulations to 2nd Place Riley and Veronica

Congratulations to 3rd Madison and Lexy
BOYS

Congratulations to 1st Place Jack and Dekker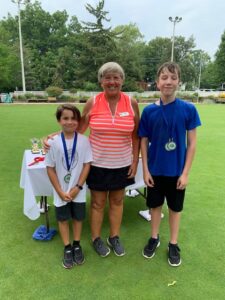 Congratulations to 2nd Place Ben and Declan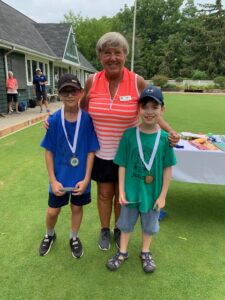 Congratulations to 3rd Place Marco and Liam
2021 Junior Singles Championship Results!!
GIRLS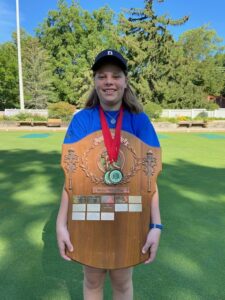 Congratulations to 1st Place
Congratulations to 2nd Place Veronica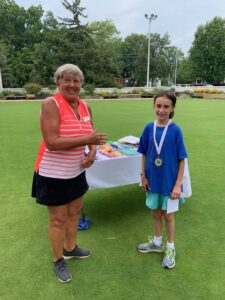 Congratulations to 3rd Place Rebecca
BOYS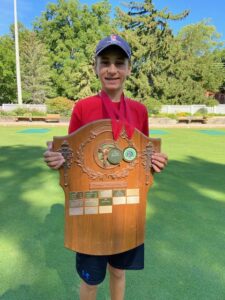 Congratulations to 1st Place Jack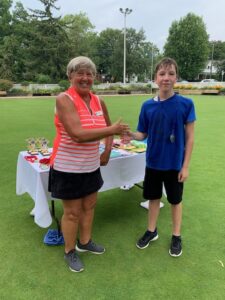 Congratulations to 2nd Place Ben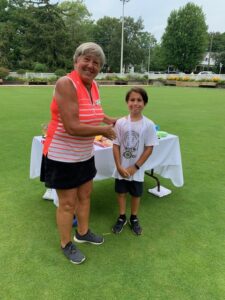 Congratulations to 3rd Place Declan